Welcome!
Welcome to Windsor Physio where we have a team of highly qualified and experienced physiotherapists committed to providing you with the highest standard of treatment and care. We provide a comprehensive range of physiotherapy and rehabilitation services for our clients.
Our Services
Physiotherapy is a health care profession that evaluates and improves movement and function of the body when threatened by aging, injury, disease or environmental factors. At Windsor Physio we have a fantastic team of physiotherapists and offer a number of different specialty services. These are summarised below:
Our Values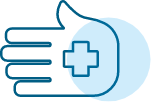 APPROACHABLE

EMPATHY
Compassion, respect and dignity for all

TEAM
Working together for great outcomes

PASSIONATE
BALANCE
Time for family, leisure and work
Our Clinics
Our four clinic locations mean we are conveniently placed to meet your rehabilitation needs.